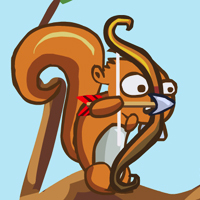 About game «Defend Your Nuts 2»
Play Defend Your Nuts 2. You want my nuts? Just try and get them! Mr. Squirrel is no stranger to nut danger, and he is ready to pop any creeps who make a move for his nuts. Fierce mice join your battle as you upgrade your weapons and nut defenses. Unfortunately, the creeps get faster and badder, too. Lock and Load, Little Nutjobs!
About Defend Your Nuts
Squirrels are very fond of picking nuts and constantly replenishing their food supplies. Having collected a decent amount of nuts, the squirrel climbed a tree and saw how its nuts are trying to select various insects and zombies. But you are rescued by the bow, with which you can defend against enemies who want to get the collected nuts. Having worked out the skills of archery a little and calculated the tension of the bowstring, you will be able to clearly hit the enemies. Having gained points and defending not the first day, the opportunity opens up to replenish your combat arsenal. In addition to the bow, there is a gun, a bazooka and even a sniper rifle. Try to pump your bow and shoot several arrows at once to surely hit the target. But that's not all, nuts can be protected with a fence, and mines can be placed on the battlefield. Defend Your Nuts is the first part of the game with beautiful graphics, where a squirrel defends nuts using different arsenal and mining the battlefield, defending against zombies and furious insects.
Defend Your Nuts Unblocked
Unfortunately, this particular game is no longer available in the online version, so we suggest you play a very similar game from the defender cycle.